Community Supported Agriculture (CSA) is a mutually beneficial relationship between a local farm and the community of people who receive the food the farm produces. Members purchase a share of the harvest and in return receive a weekly supply of fresh seasonal vegetables picked at their peak of ripeness and flavor. The members agree to share in the inherent benefits and risks of the agricultural season. The arrangement guarantees the farmer financial support and enables many smaller sustainable farms to stay in business.
Local Motion CSA is a 10 acre+, non-certified organic farm in Eaton, Colorado.  Now in our fifth year of operation, we are proud to feed families throughout Northern Colorado each season.  Our warm summer climates and fertile soil makes for some of the tastiest vegetables, sweetest sweet corn and happiest customers.
Superior quality produce is our pride, and growing it is our passion.  Local food security is our commitment to our community.  Our mission at Local Motion CSA is to provide our customers with nutritionally dense, nourishing vegetables and the best sweet corn they have ever eaten.
As a member of Local Motion CSA you will receive an assortment of vegetables for either 8 or 15 weeks, starting in mid June. Our farm share feeds approximately one family and consists of seasonal, freshly harvested vegetables, including familiar as well as more unusual varieties.  We have drop sites in Denver and Evergreen along with on farm pickup in Eaton.  We are no longer offering delivery to Fort Collins, Loveland, or Greeley.
2015 CSA Season Information:
New for 2015:
Pork share and Flower share
Season Length: 
Beginning the week of June 14 through the week of September 20, 2015.
Full Share: 15 consecutive weeks
Half Share: 8 non-consecutive weeks
Share options and cost:
This season our farm will be offering two options for membership. The full share will be 15 consecutive weeks of fresh veggies while the half share is 8 weeks.  Pickup for half shares is every other week.  Both full and half shares will start their pickup on the week of June 14, 2015.
The cost for a share will vary based on when you make your purchase.   The model of CSA supports payment ahead of time which allows for farms to prepare for next season over the winter and early spring.  We reward our early memberships with a discounted rate.  Please refer to the price table below.
Price   if Purchased By:

11/30/2014

Price   if Purchased By:

12/31/2014

Price   if Purchased By:

3/31/2015

Price   if Purchased After 4/1/15

 

Full   Share

 

$450

$500

$550

$575

Half   Share

 

$280

$325

$350

$380
The share price reflects the real costs of growing high quality vegetables. By eliminating the costs of packaging, shipping and marketing, the farmer receives a fair share of the profit. The average produce at the supermarket travels 1500 miles. Comparatively, we can offer you delicious flavor, picked at the peak of ripeness, as well as varieties rarely found at the store. You will have the benefit of personally knowing the farmers who grow your food and the land it comes from. We believe this adds up to a better value for your food dollar.
Sign up online with a credit card…
2015 Full Veggie share
$575
15 consecutive weeks
2015 Half Veggie share
$380
8 non-consecutive weeks
2015 Pork share
$550
1/2 hog various cuts
2015 Flower share
$50
2 weeks in Aug/Sept
Last day to sign up is June 7th, 2015.
Your payment will be processed through PayPal.
Online payment reserves your CSA membership, but you must still mail a signed copy of the
2015 CSA Contract
.  
Sign up with check or money order…
Your membership is reserved upon receipt of payment and the 2015 CSA Contract. Please make checks out to Local Motion, LLC.
Please mail to:
Sarah and Anthony Zamora, Local Motion CSA, 37414 CR 29, Eaton, CO  80615
Pick up Locations:
Some pickup locations have been changed from last season.  Please make sure you desired pickup location is available before signing up.  We will not be delivering to Basil Doc's Highlands or Virginia Village this upcoming year.  Also, Old Pearl Street Farmers Market pickup is not available next season.  Unfortunately, we will not be attending the market.
Denver
- Basil Doc's Pizza (two locations: Crestmoor and Wash Park) Wednesdays from 4-8pm http://basildocspizzeria.com/
*University of Denver pick up day may change mid-season from Wednesday to Tuesday (the time will remain 3-5pm)  
Eaton -On Farm Thursday from 4-7pm
Evergreen/Bergen Park -Neighborhood pick up at two locations and Bistro Colorado: Wednesdays 4-7pm
              28456 Clover Ln
              30171 Peggy Ln
               Bistro Colorado 1552 Bergen Parkway #305
Golden -Neighborhood pick up (Jackson St.) Wednesday from 4-7pm
Greenwood Village- Sazza Pizza
*Golden neighborhood pickup may not be available this season due to lack of membership.  Please email us if you would like to sign up in Golden.
————————————————————————————-
Locations will be updated as memberships are reserved.  Generally, 25 memberships are needed to add or sustain a location.  Delivery dates and times are subject to change depending on memberships.  
Participate in a grassroots effort to directly connect local growers and consumers!
What's special about Local Motion CSA?
local produce grown organically 

amazingly fresh veggies supplied weekly

emphasis on heirloom varieties

grown with love for you and our environment

convenient delivery to your neighborhood
Additional Information:   
Sustainability
LFF uses sustainable farming practices.  This means we have three main goals: environmental stewardship, farm profitability, and prosperous farming communities.  We have an integrated, resource conserving farming system, based on respect for the people and animals involved which reduces environmental degradation, and promotes agricultural productivity and economic viability.  One example of a sustainable practice LFF employs is our use of compost rather than synthetic fertilizer.  Another is our use of proper crop rotation.  Correct irrigation, collaborating efforts with other farmers and conservation of resources also contributes to LFF's sustainable nature.
Seasonal Highlights
Local Motion CSA grows over 35 different vegetables, a dozen types of herbs, and a variety of flowers.  We harvest from early July through November.  Each week you will receive a diverse mix of those crops that are in season.  Here are some typical highlights: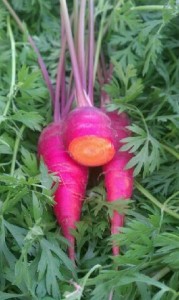 June & July–Lots of lettuce and spinach, amazing baby greens, along with a bounty of beautiful rainbow carrots, beets, and radishes.  The season begins with fresh salads and several different sautéed Asian greens on your dinner plate.
August– Spinach and lettuces are replaced by crisp,  cool cucumbers, and a combination of tasty yellow wax, purple burgundy, and haricot vert green beans .  By mid-month, you should begin to see a variety of summer squash and herbs galore.  Early tomatoes, peppers, eggplant and onions begin to arrive.  Get the butter out because the best sweet corn in Colorado will be hitting the grill this month.  Japanese edamame and Mexican green garbanzo beans will make for a tasty snack for the kids.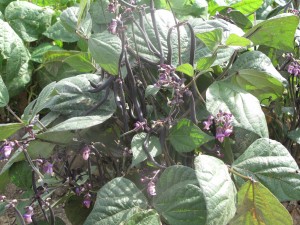 September– Prepare yourself for a bountiful month of fresh veggies. Cool nights allow for the return of greens while the warm days keep the August crops happy.  Late season sweet corn will still be growing strong.  Get ready to put some up for the winter.  Fall harvest of root crops, including several varieties of potatoes, will continue through the end of this month.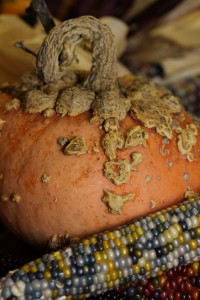 October-November The fall season begins with cold loving kale, rainbow chard and lettuces.  Purple and orange sweet potatoes are freshly dug each day before delivery.  Several eye-catching varieties of new crop dry beans along with colorful rainbow popcorn are in store to help get you through winter.  Beautiful pumpkins, gourds, and winter squash to top off a well rounded season.
Please note: seasonal highlights vary from year to year depending on the weather and many other factors and are only intended as a general guideline.  Every year is different!  
Frequently Asked Questions
Is this share right for me?  This is something we hope all our members ask themselves.  Truly understanding the risks involved with a share is very important.  There may be weeks where only a few veggies (or none) are available due to unforeseen circumstances, usually because of mother nature at her best.
How many people will a share feed each week?  On average, a share will feed a family of 2-3, depending on your cooking habits.
Can I visit the farm?  Yes, absolutely!  We strongly encourage all members to come up  and walk the fields.  Just let us know if you would like a tour of your farm.
Do you offer a fall or winter share? We will be offering a 5 or 6 week fall share next season starting the second week in October.  Sign up will be available sometime in early summer.
Does your CSA normally fill up? Do you have a waiting list? Depends… Last year we had a waiting list starting in May.  We are offering a few more
memberships this year, but if you have your heart set on joining, don't wait
until the last minute. If you are able to pay on the website then you've joined successfully.
Where can I find the 2015 CSA contract? A completed and signed application form and payment is required to reserve your membership in the program.  Click: 2015 CSA Contract to open a printable copy.
CLICK HERE
 to see the all the different vegetable varieties which have be planted the past few seasons.  
Request Information:
If you wish to learn more about Local Motion CSA and our farm… Please click here to send an email or give us a call… Sarah and Anthony Zamora, farmers/owners, (970) 689-2355 Email: lefflerfarms@yahoo.comFax: 970-454-3588