June 4th Farm Update
Leffler Family Farms' June 4th Farm Update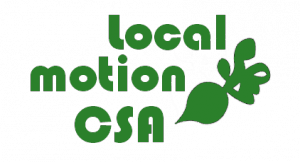 Around the farm….
Several days of cool weather and precipitation over Mother's Day weekend really helped most of the crops germinate this season. The spinach, lettuce, beets, potatoes, rainbow chard, carrots, and onions that were already up absolutely loved the wet weather. Before the storm rolled in we hurriedly planted edamame, several varieties of green beans/wax beans, garbanzo beans, sunflowers, zucchini and yellow zucchini. With the soil temperature just right, finally up to about 60 degrees and several inches of rain, we were able to get the later planted crops up without irrigating.
It turns out that this also was the perfect combination for lots and lots of weeds to germinate as well. The last two weeks have been non-stop intensive weeding, mostly by hand. Everyday we sharpen our hoes and get back at it. We also utilize a few different hand pushed wheel hoes that make weeding our long rows possible. Now that the days are getting hotter and longer, every crop will be growing really fast, but the weeds always seem to grow even faster!
Up next on the planting schedule is: okra, cukes, pumpkins, winter squash, popcorn, dry beans, and more sweet corn, beets, carrots, and edamame.
——————————————————
The above pictured cultivator has been getting a lot of use lately taking care of weeds. The tool is pushed down the row causing the soil's crust to break up and the weeds to be uprooted. Each year, many resources go into intensive weeding but this relic has been doing it for a long time!
——————————————————-
The beet story…seed to table
We love us some fresh beets on the farm, and growing them is one of our specialties. Every year we plant several varieties and this spring we seeded Detroit Dark Red, Burpee Golden, and Chioggia (Candy Cane). They are all old time heirloom varieties that have been grown for decades. Although there are hybrid beet seed that may grow faster or larger, we like to stick with the varieties with the most flavor–sugar and earth!
Beet seed is a multi-germ seed, this means there are several viable embryos on each seed that will germinate when planted. This causes some extra work for us as we must go through and thin every single one to about 3-4 inches apart.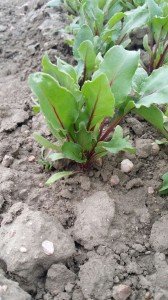 The tedious task is rewarding though! We harvest the thinnings and will either eat them raw in a salad or wilt them down with a little cream and parmesan for a different take on creamed spinach.
It will take another 3-4 weeks for these young beets to grow to harvestable size once thinned. We like to bunch them mixed together as "rainbow beets." If all goes well, expect some amazingly sweet tender beets in your first share this season!
——————————————————
Gourmet mixed baby lettuce
Potatoes–This season we have planted Yukon Gold, White Russet, Goldrush Yellow Russet, All Blue, Purple Peruvian, Norland Red, among other fingerling varieties. We're hopeful to sneak a few more varieties in soon before its too late.
Baby Spinach almost ready for the first harvest.
Yellow Zucchini still needs to be weeded.
Elliot getting a good look at our two Hampshire pigs.
——————————————————
First Pick-up
The first day of pick up for all members will be the week of July 6th. Below are the specific dates based on pick up location.
Old South Pearl Street Farmer's Market

– Sunday July 6th from 9-1.
All Basil Doc's Pizza locations

– Wednesday July 9th from 4-7.
University of Denver

– Wednesday July 9th from 4-7.
Evergreen Neighborhood/ 2 locations

– Wednesday July 9th from 4-7.
Please let us know if you are unsure of your pick up location or have any questions. I will be in touch with more specific details like the address and contact information a week or two before the season starts, and you can also reference our website for general information at www.lefflerfarms.com