July 10th Farm Update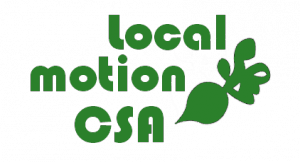 Leffler Family Farms' Farm Update–July 10th, 2014
This season we decided to start the first pick up date later than ever in order to try and minimize your risk and also avoid some of the early season bugs. The hail got us a few times, but we are very hopeful that we are in the clear now. It is still too early to tell yet as last year a bad hail storm came through on August 2nd and devastated much of our tomato, melon and pepper crop… but the worst weather is typically over by this point in the season!
We were happy with the variety (and flavor!) in the first share although it was not as plentiful as we would like to see but that is a direct function of the hail two weeks ago. As long as this beautiful hot weather holds up, we should see an increase in not just amount but also variety. Let's just hope for clear skies and plenty of sunshine!
One note about the spinach: After two rounds of hail it bolted rather than continuing to grow in it's vegetative state. "Bolting" is when a plant begins to focus its growth from leaf production to flowers. When the flowers die back, seed will form. We were still able to harvest some pretty good spinach, but it needs a little more prep than usual. Kitchen shears make it really easy to cut the small leaves off the stem.
This weeks share included:
1.) Baby lettuce heads (4 varieties: Green Oakleaf, Red Oakleaf, Amish Deer's Tounge, and Black Seeded Simpson)
2.) Spinach (2 varieties: Bloomsdale Long Standing and Giant Noble)
3.) Rainbow Beets (4 varieites: Detroit Dark Red, Burpee's Golden, Chioggia/Candy Cane, and a few White Blankoma)
4.) Rainbow Chard (5 varieties: Magenta Sunset, Rhubarb Red, Fordhook Giant, Gold Silverbeet, and Flamingo Pink)
5.) Baby Scallions/Green onions (1 variety: Tokyo Evergreen Bunching)
6.) Mixed Radish (5 varieties: White Icicle, French Breakfast, Eater Egg Mix, Zlata Yellow, and Purple Amethyst)
7.) Rainbow popcorn (10+ varieties: Japanese White, Pennsylvania Butter Kernel, Midnight Blue, Calico, Miniature Pink, Red Beauty, Cherokee, Tom Thumb, and a mix of a few rare Indian heirloom varieties)
For not having a huge amount this week, there is a lot of variety in your share, over 30 different types of seed varieties! We love growing colorful veggies and hope to bring everyone much, much more as the season progresses!
This week has just been hot, hot, hot! Tuesday registered as 97 degrees, but it was easily over 100+ degrees in the field! Today is supposed to be about the same. We are continuing to rework soil and replant after the hail storms. We have also been continuing our never ending battle with the weeds. They have outgrown a few veggies in spots at this point with some over 2 feet tall. Irrigation has been another undertaking these last few days since it has been so hot. Everything loves to have a good drink of water in July.
Next up on the agenda is gearing up for our fall crop planting. Since bug pressure is so high early season on cole crops, we wait to plant for fall harvest when the bugs die back. We will be direct seeding our Asian greens, arugula, and Napa Cabbages soon along with winter radish such as Watermelon Radish and Spanish Black Radish, both of which are amazing. Red and green cabbage, broccoli, cauliflower will be transplanted out of the green house soon. It usually takes 50 days for a cabbage or broccoli to head up from transplant.
Sweet corn update: Looks like the first sweet corn harvest is about four weeks away! If we are lucky we will see some the first week of August but it should be ready for sure by the following week.
======================================================================================================================================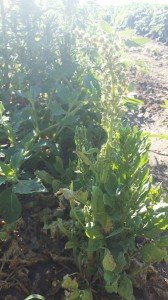 Spinach bolting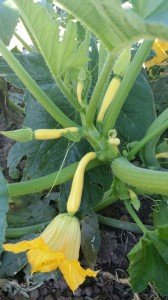 Zephyr Summer Squash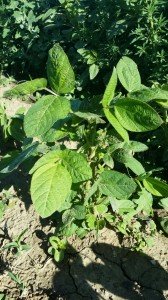 Edamame looking way better than last week!
Potatoes are growing strong.
Baby okra plant
First sunflower on the farm, Velvet Queen.
Cheyenne Spirit Echinacea